Yesterday I realized that it has been one year since I got my Wii. My friend convinced me that we should camp out for one on launch day.

I'm glad I did
.

Well, at least I'm glad I got one, just because it was so much trouble to find one after the launch. The
camping out was about 8 hours of freezing our asses off. But it was worth it, the Wii has been a great addition to my home entertainment setup.


I've been reading that this year the Wii is

still

the hot item for this holiday season. Even as the Wii has become the number one next gen console, it is still fairly difficult to find them. Nintendo has reportedly upped the production numbers a couple of times, but they still are not meeting demand.

So in honor of the Wii being one year old, I thought I would give my thoughts on the system, now that it has reached the 'maturity' stage.
First off, games:
When I purchased the Wii, this was my first concern. I bought The legend of Zelda: Twilight Princess , Super Monkeyball: Banana Blitz, and Madden 07 at the same time I got the Wii, and of course it came with Wii Sports. Madden and Zelda were good (even if Madden had no online components). Wii Sports was an excellent pack in game, but Monkey Ball was a major
disappointment for me. After that, the games... well there just wasn't much there.

Of the 27 launch titles pretty much only those I got initially were interesting to me. For a while there wasn't anything that came out, or at least that was any good. WarioWare: Smooth Moves was very well received, but I thought it was very lame. Super Paper Mario was only a shadow of the previous games (although to be fair it was enjoyable).

Only in the last few months have things picked up. The latest Madden now has online play. Metroid is out, and very well reviewed. Super Mario Galaxy is fantastic, and it feels to me like the first Wii game that really has figured out the right way to use the motion controls. Compared to the abysmal Super Monkey Ball (and most other games from that time frame) controls, they are both more accurate, and more fun. Things appear to be getting better.
Second, Virtual Console:
This was a huge deal for me when the Wii was announced. I loved the concept of the virtual console, being able to legally download old games and playing them on a TV as god intended. I envisioned Itunes music store for Video games, and could not wait to get going with it. I purchased a $20 Wii points card at launch.
The 30ish launch titles on the VC (with more promised every

month

!) left me feeling very disappointed. So many of my must have titles were MIA. with literally thousands of games that could potentially be available, they had 30?!? And where was Paper Mario? Where was Metroid? How About Super Mario RPG? What about Super freeking Mario Brothers - not to mention 2, 3, Super Mario World, Lost Levels... Well you get the point.

A year later, we are finally getting near the level that I feel we should have been at launch. Obviously this 'slow trickle' of games has been a worth-while strategy for Nintendo. I'm sure I'm not the only person who has purchased at least a couple of games that never would have made the cut if I had better options to choose from. While we are still (inexplicably) missing Super Mario RPG, many of my other 'must haves' have shown up. It would be nice to see some original content, like the XBOX live arcade has, but otherwise we are finally we are OK on this front.

Hardware:
The Wii hardware has been both a blessing and a curse. Since the graphical capabilities of the unit are far less than its current gen competitors, the Wii is very affordable. This, and its innovative contollers, have led it to market prominence.

The obvious downside to this is that this machine can't do as much as an XBOX 360 or a PS3. This is not a huge deal for me, as I feel the graphics on those systems don't do much to improve the gameplay. However, I suspect that many developers did not think the Wii would be as successful as it is. Pair this the unique nature of the controller scheme, making games less portable, and I think Wii development looked less appealing to developers in the beginning. As such, I think many third party developers initially did not plan on producing much for it.

Consequently, up
to this point I have felt that most third party Wii games have been less than great, and nearly all of the really good Wii titles have been Nintendo produced.
Now that the Wii is the leading current gen console, I only hope that the number of quality third party titles will increase.

Other Stuff:
When the Wii launched, they had many channels that were promised but not ready yet. The weather channel, the news channel, the internet channel were all missing when I plugged in at about 1:00am one year ago. As these channels slowly dribbled in (with even new exciting channels like everybody votes, and check mii out) I pretty much yawned. Only the internet channel had any real use, and even that was hobbled by lack of keyboard support (recently added). I would love to see a channel for playing mp3s, DVDs, and DIVX/XVID files. While the unit is not the most powerfull out there, I think it would clearly have the horsepower to do these things. I wish Nintendo would make it happen. Luckily there are ways to stream media to the Wii's interntet channel - Like Orb.com, and Youtube.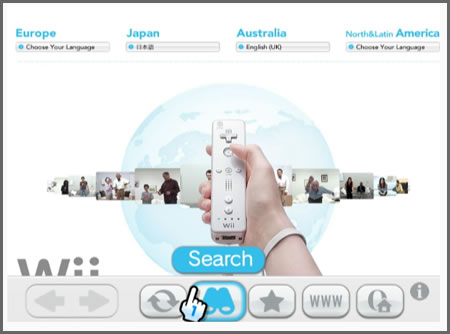 Overall:
My analysis may make it appear that I'm not a fan of the Wii. but this is not the case.
My gripes are only things that would make the Wii experience better, not actual problems I have with the system. Honestly, I love that damn white box. It has proven to be a great deal for my entertainment dollar.